Eclipse.
Thu, Aug 24, 2017
Scene: February, 1979. My fifth grade classroom. A large-for-the-time 17" or so black-and-white TV (the kind with a faint greenish tinge) sits on a cart. Everyone watching a total solar eclipse happening live in the Pacific Northwest. I don't remember the mood in the room, but I suspect it was a mix of breathless, half-bored, and "meh." I do remember, very clearly, learning that the next one was in 2017 and thinking how far away that seemed. And yet, resolving to see it.
So now, the eclipse that I've been anticipating for, quite literally, almost my entire life, is here. And though I kept my head in the sand for way longer than I should have as far as preparations…I managed to see it, have a great time, and even get some decent pictures (for a first time eclipse photographer).
Location, Location, Location
As I said, I kind of stuck my head in the sand for a long time, as far as preparing for the eclipse. I think I was just afraid of finally committing, and what if I chose poorly? Or something. I don't know. I don't have a good explanation. Anyway, in early June I finally got off my butt and looked for a hotel somewhere in the zone of totality. I wanted to find something not too crowded (so avoiding places like Nashville), but still close to major roads, in case we needed to drive somewhere the morning of (so going to the South Carolina beach, with only one direction to move in case of clouds, wasn't an option). Also, I didn't really want to fly out, for cost and logistical reasons. So I was focused mostly on western Kentucky and eastern Missouri.
We ended up finding a room at the Super 8 in Calvert City, Kentucky, about as far south and west as you can get without crossing into Missouri. We drove down all day Sunday, and though we hit some traffic and crowded rest stops, it wasn't nearly as bad as I'd anticipated. We'd been worried that we might be in stop-and-go traffic for hours, especially closer to the eclipse site. It was clear that the highway departments were concerned, too, as we saw several signs warning people of the eclipse and telling them to not park on the shoulder or roadway. I wasn't sure what to expect at the hotel, but when we got there, it was neat, offered free breakfast (to a packed room of eclipse watchers), and the staff were all very friendly. They even provided a complimentary set of eclipse glasses and kit of thematically-linked snacks (moon pie, Sunkist soda, etc.). I suppose this kind of "involvement" was more the norm than exception, but I honestly hadn't thought about it and was pleasantly surprised. Always great to see "normals" getting into things!
For the actual eclipse, we were prepared, if necessary, to watch from the hotel parking lot. But we also checked out a couple local parks, and ended up at the Kentucky Dam Village State Park. It's a nice park on a man-made lake, with cottages, lodge rooms, beach front, a marina, and a golf course. It also provided several minutes of fun for the kids, finding legit opportunity to repeat "dam village" and "dam park" until I finally had to bark at them to stop.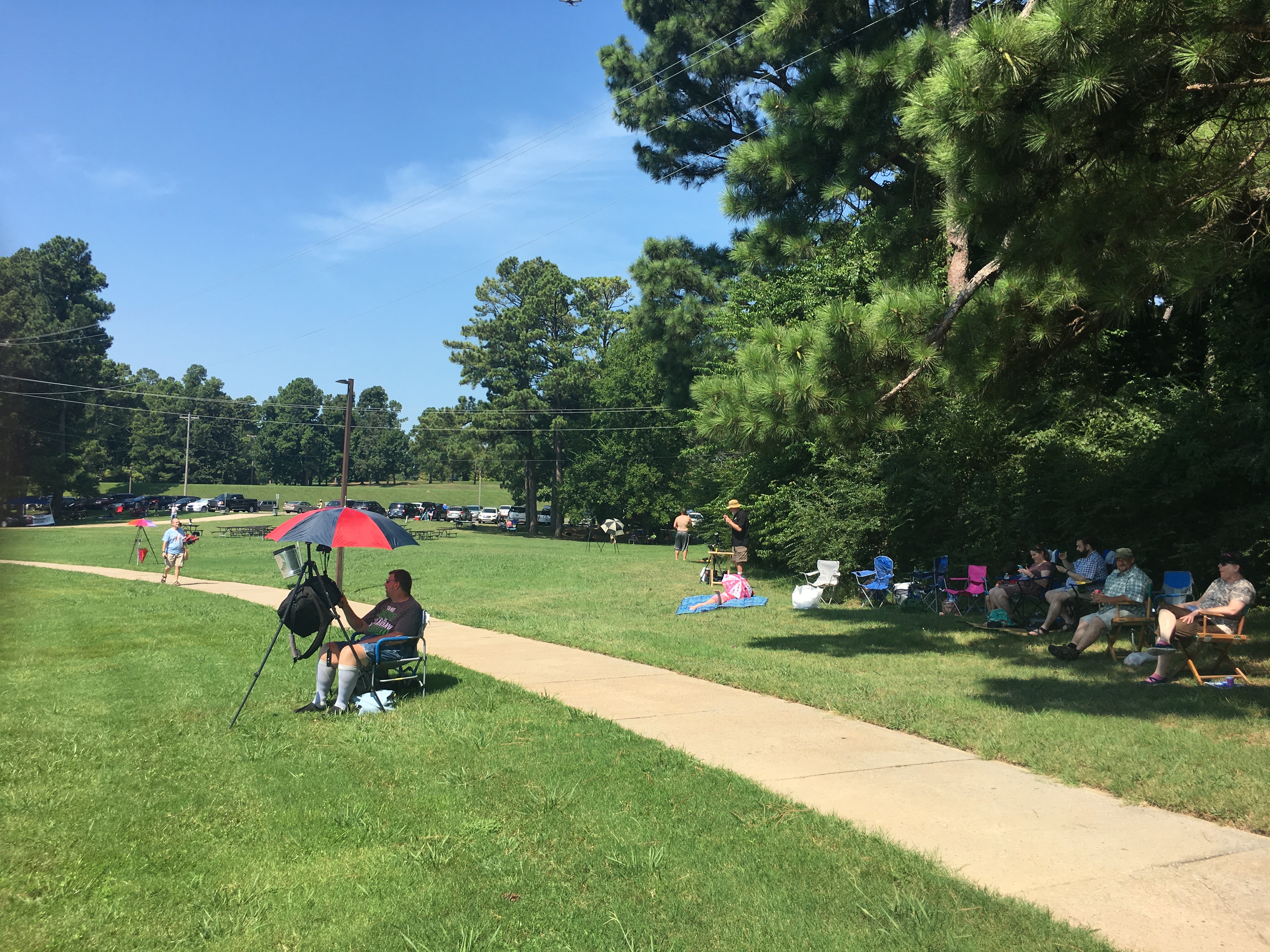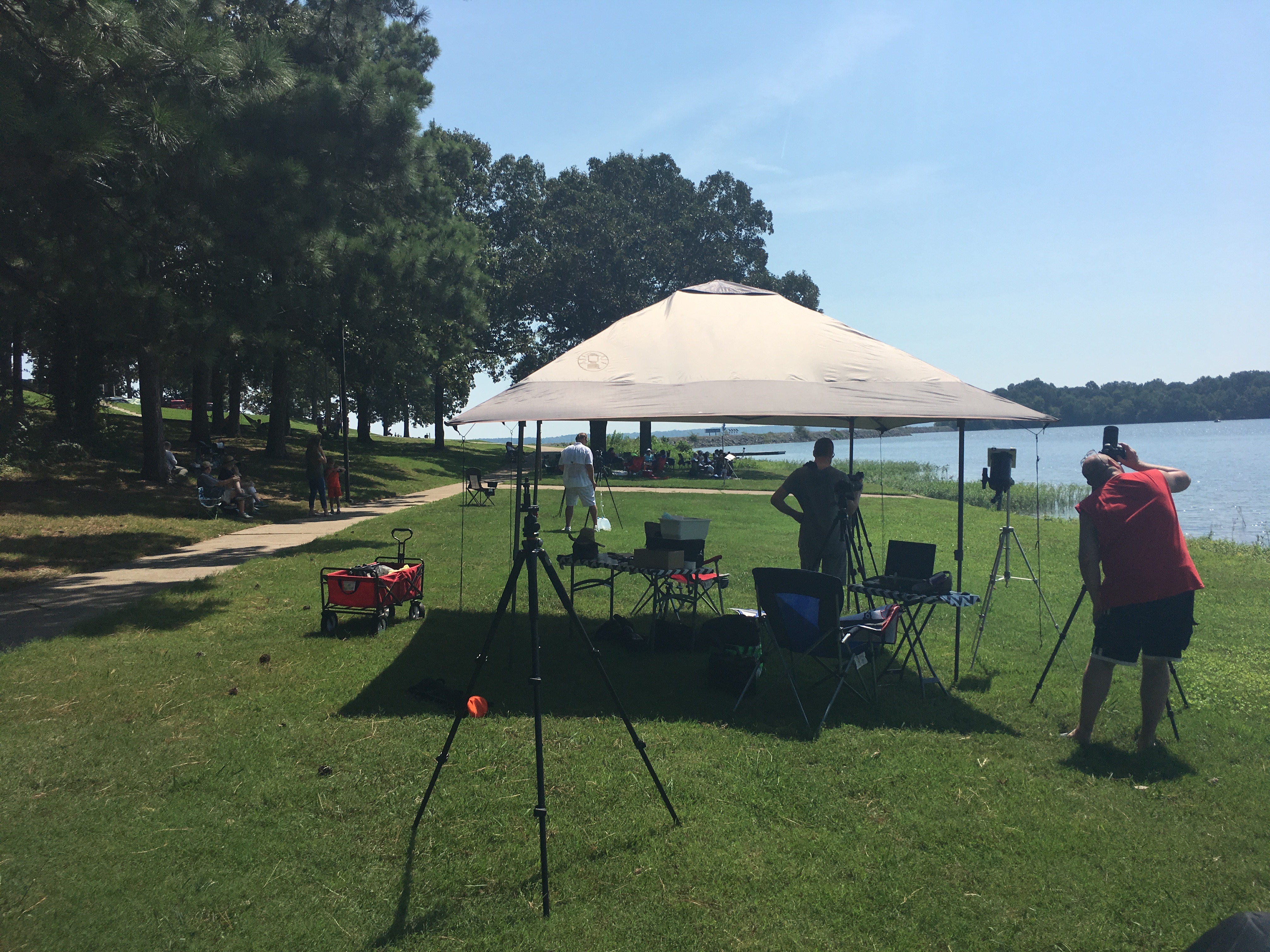 The morning of the eclipse, after the aforementioned crowded breakfast, we drove down to the park and were quite happy to discover that it was not packed to the gills. I'd figured the day could range anywhere from "a few nerds in an empty field" to "carefully threading your way between wall-to-wall blankets to get to a row of 200 porta-potties." I would've been equally unsurprised at either extreme, and was very glad that our park was on the lower end of the scale. I never counted, but there were probably about fifty or so groups there (singletons, couples, or families), spread over a not-huge space along the shoreline. We never felt crowded, nor alone, and it was great having at least a small crowd nearby when the eclipse actually happened. Made it much more of a shared experience.
Set The Controls for the Heart of the Sun
Even before today's "pix or it didn't happen" mentality, it was pre-ordained that I'd attend the eclipse with a car full of gear, and grand plans to do everything I could to photograph it. As I said to one of my fellow viewers, sure, I will find better photographs online, but these are my photographs. Which kind of makes them more real, somehow. I also vowed, however, not to let the drive to take pictures overshadow (pun!) my enjoyment of the event, and I think I pulled off a good balance. More on that later.
Plans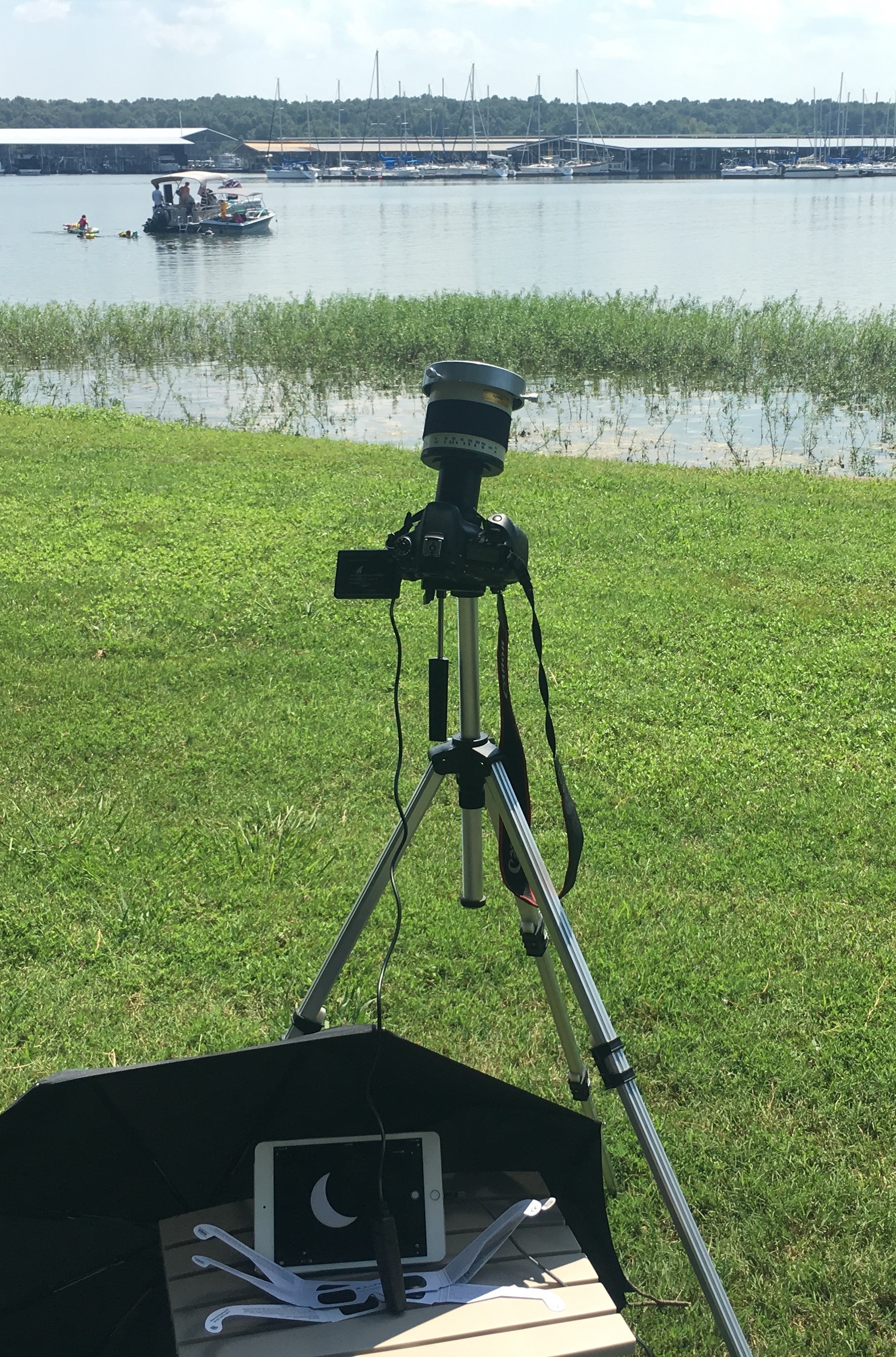 Our primary camera (aside from iPhones) is a Canon E70 DSLR. The legendary Fred "Mr. Eclipse" Espenak has a great page about How to Photograph a Solar Eclipse, and this made it quite clear that I needed something better than the 18-135 lens the camera came with. I ended up purchasing a 500mm Opteka "mirror lens" from Amazon, which also came with a threaded mount adapter and focal length doubler, so I expected to get nearly full-frame images of the sun and corona with an effective 1000mm lens. A whole meter of lens, in a 6" package. For $120. It's not a fantastic lens, but it's a whole lot cheaper than a "real" 1000mm telephoto lens would've cost, and I was mostly happy with the results. We also have a second DSLR (a Canon Rebel XT) that we stopped using when we got the E70, and so I figured I could use a 75-300 lens to get some handheld shots.
Of course, I was also afraid of burning out my camera sensor (or at the very least, afraid I wouldn't get a reasonable image without a filter) so I had to buy solar filters. I ordered a nice glass filter a Marumi 58mm ND 100000 filter, for the Rebel, but again because of my delaying, I had to pay super extra to get shipped from Japan. Then the order got canceled by the seller, but I found a better offer from a faster shipper at half the cost (about $70 total). For the mirror lens, I ordered a Gosky 120mm Eclipse filter, that sort of fits over the lens and tightens with thumbscrews on the side. This was only $50.
About a week before the eclipse, I got emails from Amazon saying that the sellers of these filters did not respond to inquires as to the provenance of the filters (who actually made them, whether they met certain standards, etc.) and they strongly encouraged me to not use them, and refunded my cost. So now I've got two free filters, and a decision to make. Of course, I'd already tested both, so I was reasonably sure they'd be safe to use, but resolved to limit my actual "eyeball exposure" using them and stick with mostly electronic viewing.
I also brought a couple tripods (one really cheap one that came with the E70 package, and a middling one I've had since high school), as well as a lousy tripod for my iPhone, with which I hoped to get a timelapse video of the whole eclipse. I planned to use an iPad for live viewing of the image over wi-fi (so I didn't have to crouch and crane my neck to look through the viewfinder). The camera has a swiveling LCD screen, but the iPad is bigger and brighter. The iPad could also be used to remotely trigger the camera, but I also had a wired remote to trigger the shutter (to cut down on vibration on the camera itself). Since I was either live viewing through the LCD or the iPad, the mirror was locked up, which also helped to cut down on vibrations.
Finally, everyone else had iStuff to take pictures of the sun, and the crowds, and each other, so I knew that we'd be well covered as far as producing documentary evidence that we'd actually been there. And of course, we had a pack of eclipse glasses (10 pair for $15) that Amazon was able to verify were properly tested and ISO certified. Plus the free set that we got at the hotel.
Reality
As popularly paraphrased from Field Marshal von Moltke, "No plan survives contact with the enemy." That was definitely true here. A few of the problems I encountered: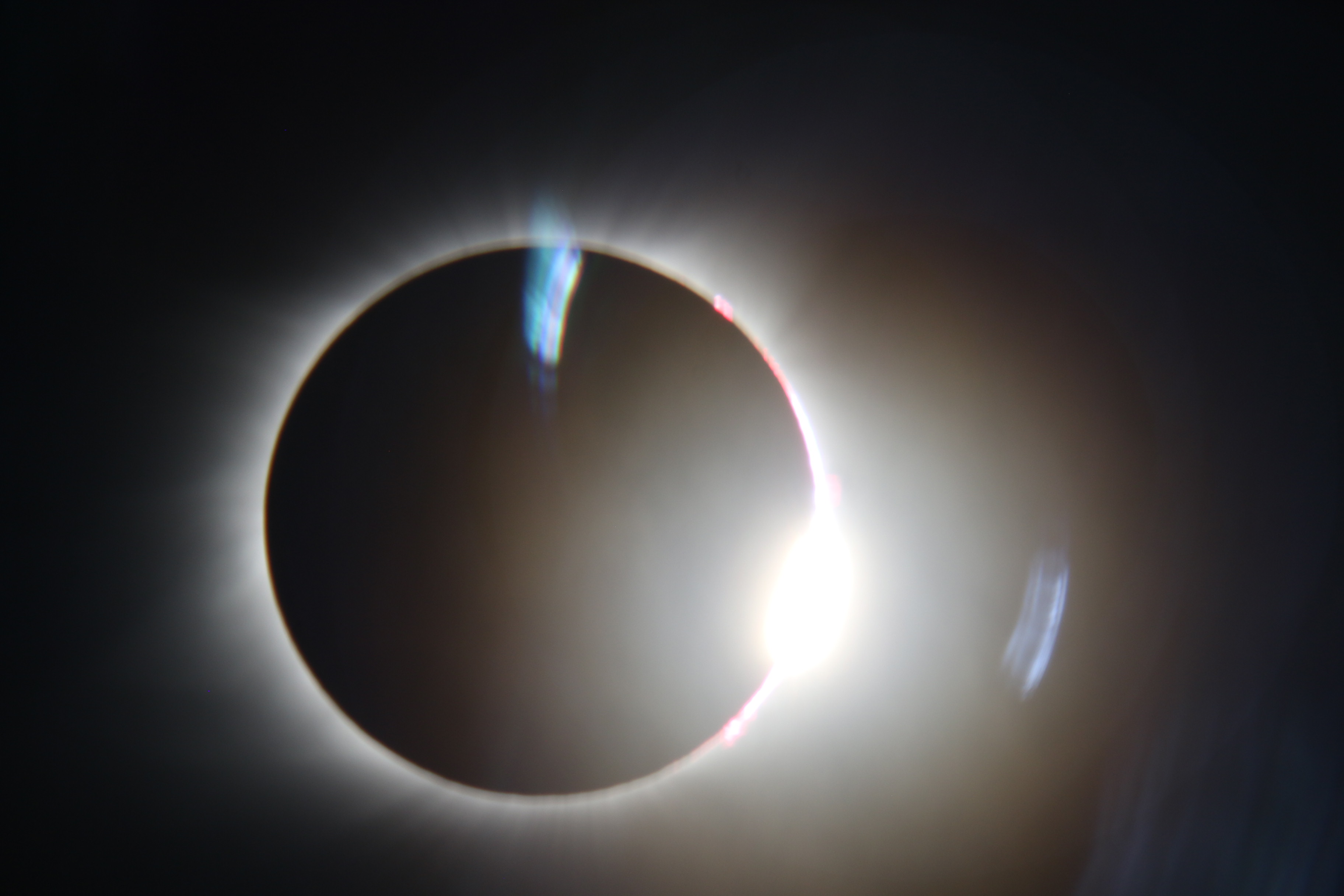 My tripod, while sufficient for 30 years of casual, occasional use, is crap for astrophotography. Pointing the camera at the heart of the sun, and keeping it centered as the spectacle rapidly moved through the zoomed-in frame, was a pain in the ass.
The 18-55 lens on the Rebel was totally too short to get a nice image of the partial eclipse. I tried once and then just set it aside.
I completely forgot about swapping the 75-300 onto the Rebel, and so missed out on a whole class of reasonable-zoom, handheld shots.
Similarly, the images on the iPhone were much too small for a good timelapse, and even with glasses taped over the lens, it was overexposed and just an ugly blur. Plus, the cheap tripod I had for the phone was next to useless (especially for pointing so close to the zenith), and I didn't have a good table to set it on anyway.
We didn't have a good horizon to get the "360º sunset twilight" photo, but I did get a bit of a panoramic shot that got some of the feel.
I totally didn't get any handheld shots with the iPhone either.
I got some weird flares from the big lens, especially in the "diamond ring" shots. I don't know if that was due to the lens, or the filter, or some kind of weird interaction between those elements and the sensor (especially with the mixed brightness of the sun at that stage).
The iPad overheated during the partial eclipse phase (it was 90º or more out, and being plugged in to a big battery and getting constant wi-fi use was too much for it).

Not bad for first try

I'd hoped to do auto-bracketing of images during totality, and configured the camera to take 7 consecutive images, spaced across -2 to +2 stops. Then I discovered that when in "live view over WiFi" mode, bracketing wasn't available. So when totality hit, I had to disable the iPad and use the smaller LCD to make sure I was centered.
I'm also not sure the bracketing worked very well anyway, since the mirror lens was fixed-aperture and I never fully tested how the camera dealt with that for exposure changes (it looks like it varied exposure time and ISO settings). At some point later in the eclipse it definitely stopped bracketing.
The lens I was using wasn't great for focusing – my near vision is lousy (it sucks getting old) and even with the iPad as a display it was hard to get a good feel for how sharp the image was. Annoyingly, I couldn't just rack it all the way to infinity – as it was out of focus there.
Also, I didn't have good shade for the iPad screen (so it was sometimes hard to see). Nor for the camera rig itself (so it was baking in the sun for a couple hours).
All that said, however, I did get some good pictures, and I also remembered to just watch with my own eyeballs.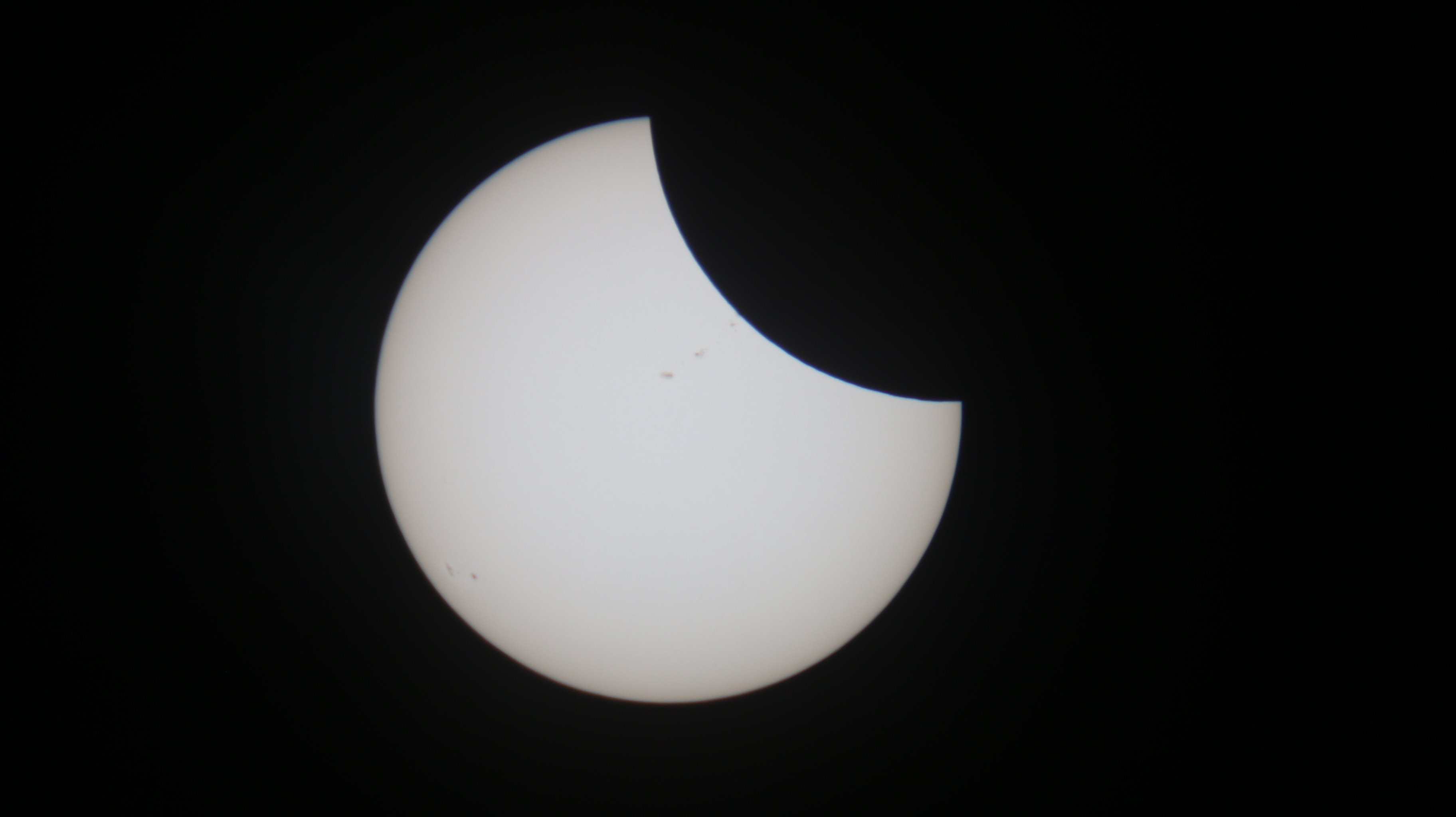 Being There
But what was the actual eclipse experience like? Was it everything I expected? Well, keep in mind that I've been building this up in my head for nearly 40 years, so it's unlikely to be everything I thought it could be. I know that anytime I stopped to think about what I'd see, I got anxious. Nervous about the weather. About traffic. About whether we could find a spot of ground to watch from. About just about everything. Plus, just a strong, deep, almost gut-level emotional intensity.
Then when we were actually there, all set up, gear ready to roll, thin wispy clouds occasionally moving nearby (but nowhere near the sun)…most of the anxiety faded away, and I was left with that indescribable emotional anticipation. "I'm going to make it! I'm going to see the eclipse!!"
As the partial eclipse continued, we started to get an odd "feel" from the light. Our brains knew the sun was overhead, and that the sky was clear, but it wasn't right, somehow. As we got very close to totality, this became even more apparent. It wasn't quite dusk, but it wasn't quite what you get from really dark clouds before a storm either. But, especially in the last couple minutes, you knew something was up.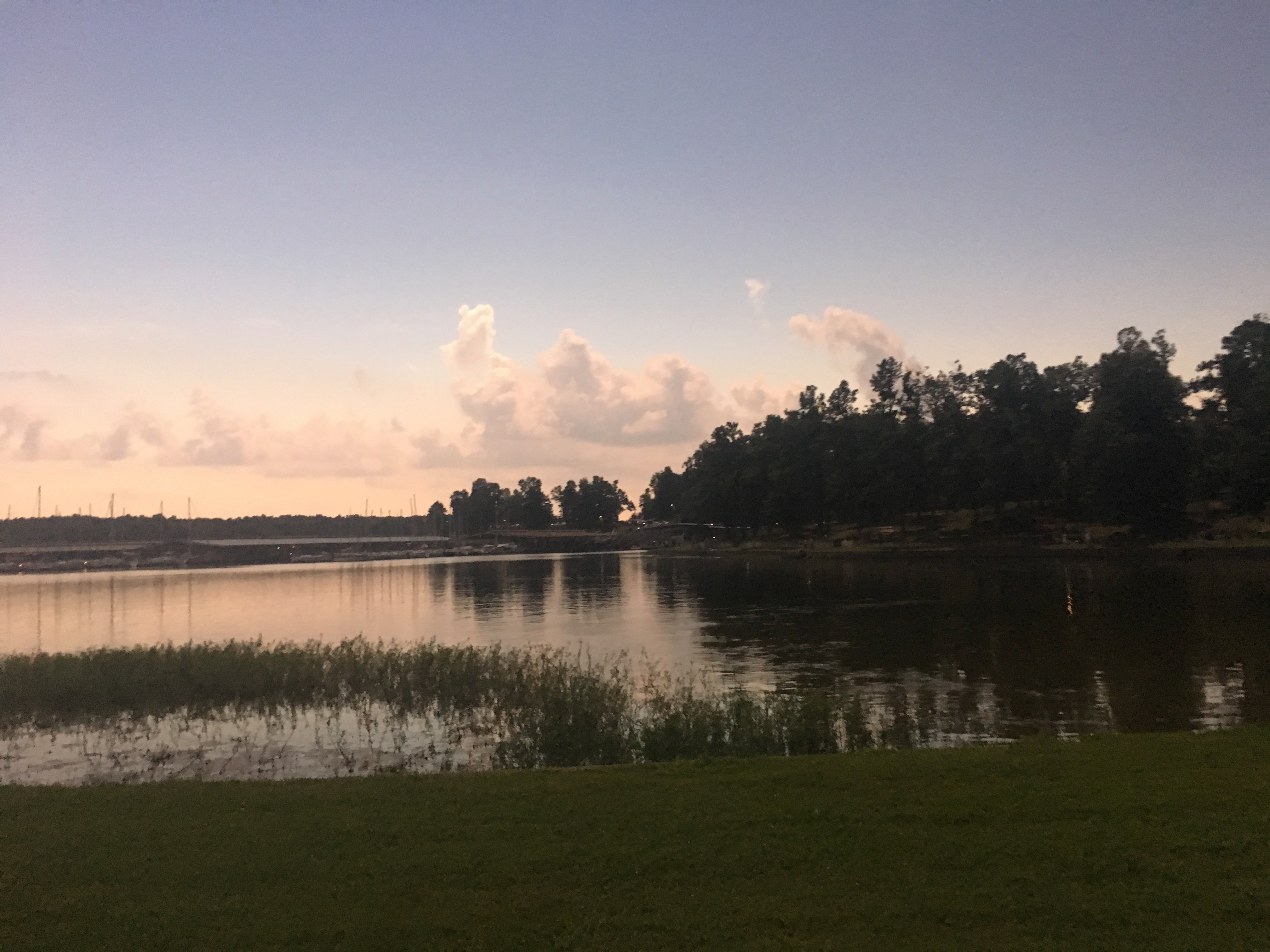 When we were down to the last few seconds (we had people nearby calling out a bit of a countdown, plus at least one computerized Mortal Kombat voice warning of impending events)…I called the kids over from their card game and just watched. I snapped pictures when the "diamond ring" happened, then gasped as totality hit and the crowd around erupted into cheers and applause. It was, as advertised, totally amazing. Unlike anything I've ever seen, anywhere.
And yet…
And yet it wasn't quite as intense as I'd thought it might be. I didn't collapse into an emotional heap. I didn't hug my children tightly and say "Isn't this incredible!!?!" Sadly, also, I didn't sagely intone "the cosmic ballet goes on." It also wasn't as big as I'd expected – I mean, you never really see the sun, and if you stop to think about it, the moon's pretty small in the sky. But I was still completely amazed, literally speechless (at least I don't remember saying anything, or if I did, I'm sure my voice cracked more than a little). And remembering it brings back the same emotional intensity I'd felt leading up to the event. So maybe uncontrolled hysterics wasn't a reasonable expectation.
When the diamond ring came back the thrill was again made real, after having just watched the corona for a little over 2 minutes. (We weren't quite on the centerline, but still had a relatively long duration of 2:30). And again, the crowd cheered and whooped and applauded.
So, yes, it was absolutely amazing. I haven't turned into an obsessive eclipse-chaser, but I'm definitely going to make plans to see the next CONUS eclipse in 2024. Amusingly, the park we were in is just outside the zone of totality for that one.

Gridlock, Bad!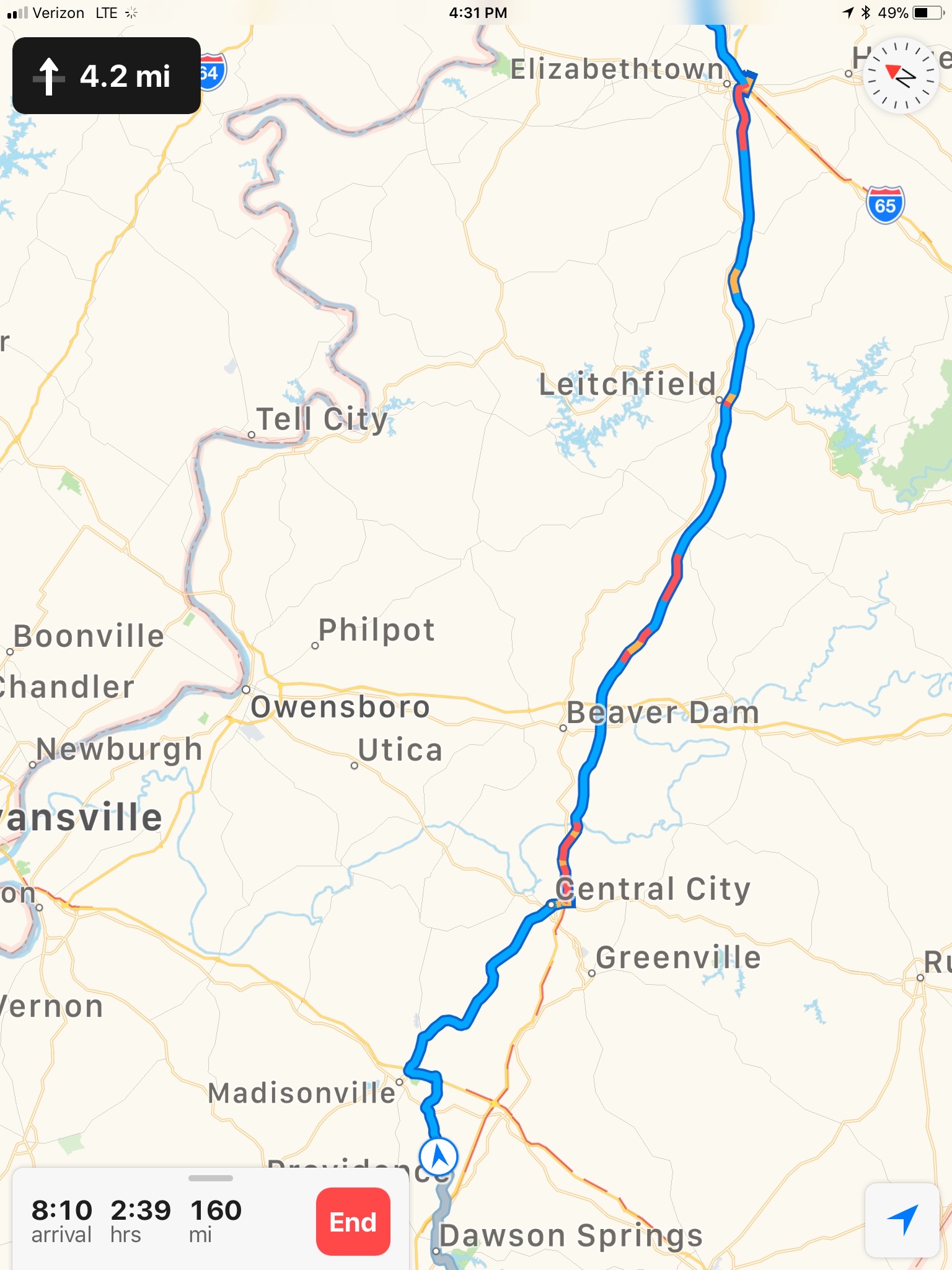 Shortly after the sun had returned to a thin crescent, we started packing up. It was just too hot to keep hanging out, and we knew traffic would be tough, and had to get to Louisville for the night. We started driving east, and searched for an ice cream shop (we needed to cool off and relax a little). Turns out there was a Dairy Queen back in Calvert City, so we turned around and spent some time there. It was, predictably, full of people talking about the eclipse, and we took some time to talk amongst ourselves and just spin down. Then about 3:00 local time, we got on the road, and quickly decided we'd need to get off the interstate, as we were seeing stretches of orange and red all along I-69. We missed a turn, but found some slow back roads back up towards US-62, which parallels the interstate and Western Kentucky Parkway most of the way to I-65 in Elizabethtown.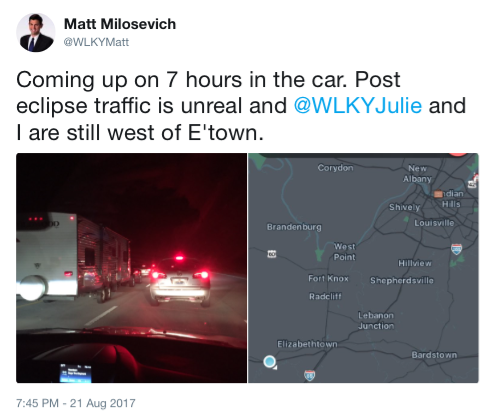 Then, maybe an hour or more later, we're trying to navigate around another block of slow traffic (much of which is probably coming north from the point of Greatest Eclipse in Hopkinsville), and end up briefly on a fast-moving I-69 heading to Indiana. I briefly considered staying on this road to I-64, and taking that due east to Louisville. But it seemed so much out of the way, and we decided to stick with the original (albeit modified) plan. About 10 minutes later, Apple Maps suggested the I-64 plan, only getting there by a diagonal of back roads past Owensboro, rather than doubling back to I-69. I kind of wish we'd doubled back, as it might've saved another 30 minutes or so, but we still ended up getting to the Hyatt Lou in about four and half hours. Which is at least 3 hours less than a reporter leaving from Hopkinsville took.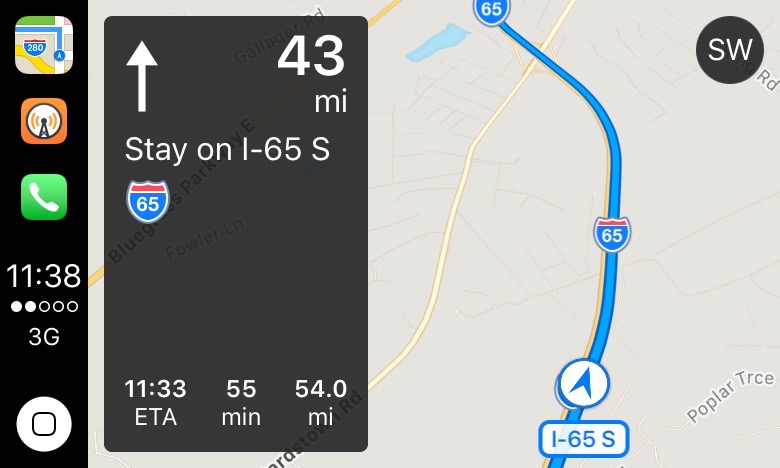 Also, driving back and forth across a timezone border definitely messes with your ETA – I'd totally forgotten about that when planning the trip back to Louisville. It made for some amusing navigation app moments the next day, too.
A piece of advice I'd seen before we left was to bring paper maps – because the cell network may be overwhelmed. So I bought a new atlas, and was glad we did, because a few times the navigation became really unresponsive (or we dropped down to 1x or even no service).
Lessons Learned
So what do I do next time? How can I make things better? Firstly, I've already identified some gear I definitely need, like an equatorial mount and drive on a better tripod for the main camera (to keep the sun centered automatically). Also, have a tripod with a wider, fixed, field of view (including the horizon) for the "traditional" multi-exposure partial-to-full-to-partial eclipse image. And keep another camera with decent zoom as my primary "during the event" handheld camera (that was supposed to happen this time but it got forgotten…) And maybe a real tripod / mount for an iPhone device, if we want to do some kind of timelapse / movie, but I think that may end up being overkill.
I should build a detailed checklist and follow that during setup, all throughout the eclipse, and especially be prepped for the final seconds before totality.
I'd want to find a way to automate everything. Someone mentioned software called "Eclipse Coordinator" (I think – I can't find it online now) that tracks everything you need to know and can control one or more cameras automatically. So regular photos through partial and totality from the equatorial drive camera, regular photos for the multi-exposure final image, etc., can all happen without me watching. Though I'd still want some kind of live view so that I'd be able to notice if someone, say, knocked a tripod out of alignment.
I need to better test the gear beforehand. I should've set up the big lens to take nighttime photos of the full moon to practice focusing, and maybe even carefully mark the ideal focus location. I should also consider a better close-in lens (even an actual telescope) though that can get pretty expensive. But who knows, I may get into nighttime astrophotography in the meantime… I should also have had a better idea of how bracketing works with my cameras, and probably should've been saving in RAW format.
It would've been good to have a table of pertinent information – elevation/azimuth of the sun during eclipse, timetable of first contact, begin of totality, end of totality, etc.
I wish we'd had more "infrastructure" like a better table, some chairs, shade (for me, for the camera, and for the display screen). But packing everything into a mid-size SUV, plus family and luggage, just didn't work. I was trying to avoid putting anything on the roof – next time I'll just plan to bring as much as possible and deal with the logistical pain.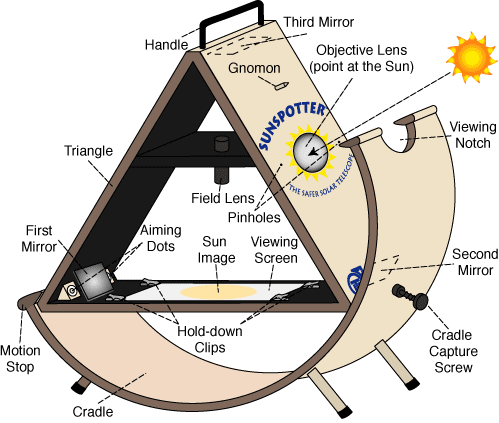 In addition to live viewing of the "primary" cameras, it'd be nice to have better, interactive, large-screen live viewing just for everyone around. I had more than a few people stop to look at the image on the iPad, and I (and many around me) tried various pinhole and ad-hoc finger-pinholes to project images onto the sidewalk. After the eclipse, I saw a Sunspotter viewing telescope online. Something like that would've been fantastic for live viewing and discussion of the eclipse, and keeps people from staring at the sky (even with eclipse glasses, I still get nervous…)
I also wonder about something like a fisheye, to get a 360º view of sky and people. And video of crowd response could be fun too.
Finally, we should've spent more time after the eclipse, and in the area, just relaxing and seeing more sights. We tried a little of that, but had to get back in time for a start-of-school-year event on Wednesday. Plus, in the last month, we visited 14 states (nine, if you only count states where we actually got on the ground and stopped for food or something), five national parks, four state parks, and three timezones. So we were kind of a bit sick of sightseeing.
But wait, there's more!
But we weren't quite done with sightseeing. We planned to take a tour of Mammoth Cave, mostly so that we wouldn't have to drive straight home after the eclipse. We also wanted to stay somewhere nice, so we splurged for a suite at the Hyatt in Louisville (home of DerbyCon!). Unfortunately, we got there so late that we didn't have time to relax and enjoy it, like we'd hoped. But the kids were excited, and have asked to "stay in more hotels like this."
Early the next morning we walked to the Panera down the street, visited the life-size Colonel Sanders statue at the visitor center, stopped at the museum at Churchill Downs, and drove to Mammoth Cave for the "Historic" tour (which was, as expected, pretty amazing as well). Then we drove home on more and more country roads, passing through the extreme southwestern-most tip of Virginia and (and the Cumberland Gap tunnel). We'd considered an overnight stop at Roanoke, but also knew that home would only be another 3 hours from there, so we kind of kept our plans open.
It would've been nice to have made that drive in the daytime, as the mountains in that corner of Virginia (and for a while, back into Tennessee) looked like they'd be beautiful if you could actually see them. But as I said, we needed to get home, and we pressed on, finally pulling in at 4:30 am. I'm way too old for that kind of all-nighter silliness, but we were glad we did it.
So, yeah, lots of craziness beforehand, lots of gear to assemble, test, and worry about, worries about traffic down, crowds during, and gridlock leaving the eclipse, logistics of multiple hotels, parks, food, cave tours, and timezone issues, stopping to get gas every time we went under a half tank, not to mention losing data connectivity and falling back to paper maps. All for 2 minutes and 30 seconds of astoundingly cool firsthand astronomy.
It was totally worth it.